We talk a lot around here about finding a greater sense of meaning and purpose at midlife. So when I spotted a reprint of How to Find Your Purpose and Do What You Love by Maria Popova, I thought I might unearth a few gems for you.
Naturally, the 2005 Stanford commencement address by Steve Jobs was included, and it inspired the title of this week's issue:
Your work is going to fill a large part of your life, and the only way to be truly satisfied is to do what you believe is great work. And the only way to do great work is to love what you do. If you haven't found it yet, keep looking. Don't settle.
The thing that really caught my eye, however, was the Holstee Manifesto. Apparently this was a piece of viral inspiration from 2009 that I somehow missed. It begins:
This is your life. Do what you love, and do it often. If you don't like something, change it. If you don't like your job, quit. If you don't have enough time, stop watching TV. If you are looking for the love of your life, stop; they will be waiting for you when you start doing things you love.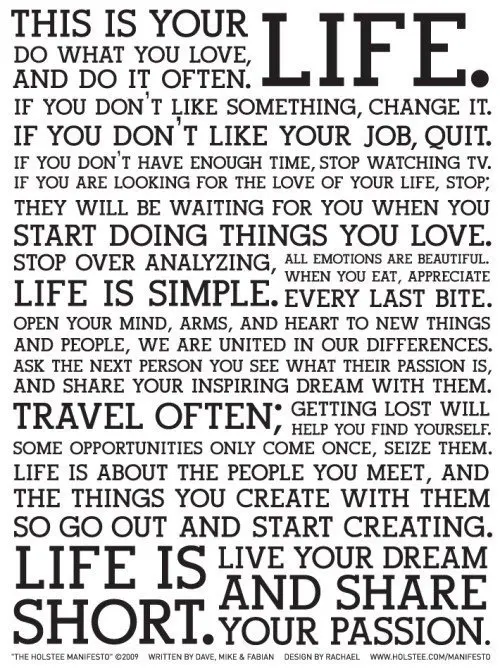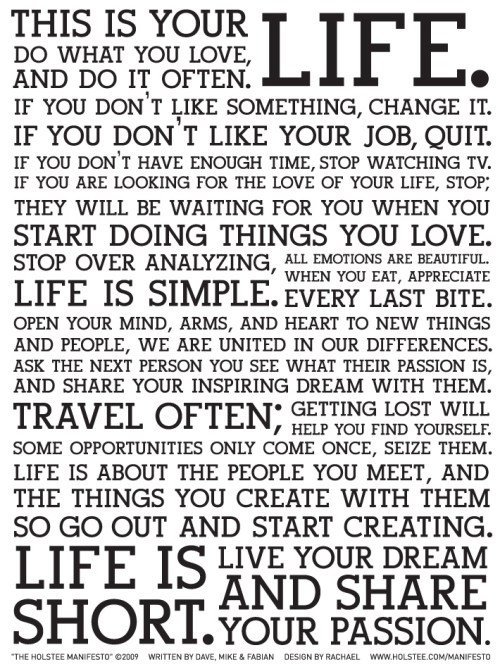 Just a pipe dream? Too fanciful for a pragmatic person like you?
There's nothing fanciful about wanting to live the life you want. It's completely rational — in fact, behaving otherwise is irrational.
This isn't a dress rehearsal. This is your life. This is no time to settle.
Keep going-
P.S. See how the "don't settle" mentality ties into the whole "un-retirement" trend, and what makes Gen Xers particularly capable of succeeding.
Also, please tell a friend to join us here. Thank you!
How will the "un-retirement" trend affect you?
By Brian Clark
Baby Boomers just can't seem to quit … working, that is. It's not that they can't afford to retire — it's just that they're finding out it's not all it's cracked up to be:
Welcome to the land of the un-retired — folks who thought they were leaving the work world only to return because they sorely missed something about it, besides the money. These people in their 50s through 80s retired on pensions or savings — or both — but ultimately woke up to the fact there's more to life than watching Florida sunsets.
This has some interesting implications for the generation that's "supposed" to retire next. That would be us, in case there was some suspense there.
Work: The NeverEnding Story
I'm guessing that our reaction to retirement will end up similar to what the Boomers are currently paving the way for. The difference being that many of us might not have a choice but to keep working due to a lack of retirement savings.
But here's the kicker — even though Gen X has already graduated to 51% of executive positions, it might stall from here. Why? Because your Boomer boss may refuse to leave, or an elder executive may do an encore that nukes your promotion.
This "un-retirement" trend continues to build, according to a 2017 Rand Corp. study showing that 39 percent of Americans 65 and older who are currently employed had previously retired. And more than half of those 50 and older who are not working and not searching for work said they would work if the "right opportunity came along," the study found.
So we're already unhappy at work. Now we're stuck in neutral indefinitely? And more likely to be laid off after 50 if we don't move into a defensible position?
Nice.
No retirement and a dead-end job?
We're a pragmatic bunch, so what's the solution? Simply accept our fate and lead a life of quiet desperation for the rest of our days?
Or, perhaps we can begin to redefine what we're working for. Instead of striving to quit working, we can strive to quit settling.
Whether it's freelance, a startup, or joining a non-profit, maybe it's time to figure out what we really want to do, and start planning how to get there.
That way, even if we technically have to keep working, we're engaging in our personal version of the life-extending concept of ikagia — our reason to keep going.
I know I don't want to retire, but I've got about 10 years left of working this hard. Then I want to work a few hours a day, sharing ideas with people like you, and making enough money to move on to the next part of the world my wife tells me I want to hang out in.
It's doable. And it's a lot less frustrating than golf.
Un-Retirement Trend: Why Some Workers Can't Call It Quits (Blue Zones)
The Gen X "latchkey" to financial success
By Trudi Roth
News flash: the "Golden Years" for Generation X will be much more challenging than it has been for the generations that came before us.
What, you expected normalcy now?
Social Security and Medicare are heading towards insolvency. We keep hearing how Gen Xers are unhappy at work, drowning in debt, and facing an uncertain, if not unlikely, retirement.
Despite all of the negativity, our generation is doing just fine, thanks. We know what we have to do, and we're not ones to complain about it, either.
After all, we were handed the keys to self-sufficiency by the changing economic realities that shaped our reality — and resiliency — from the start. And if the future shapes up as expected, we're one group that's prepared to deal.
Home alone
Ours is the first generation where it was common for both parents to go to work, which left us to fend for ourselves. We were the so-called "latchkey kids."
We learned how to let ourselves into an empty house after school. Figuring out how to eat microwaved mini pizzas as a snack without getting third-degree burns on the roofs of our mouths wasn't the biggest challenge, either — but we handled it.
In the Gen X world, we often joke about how lax parenting was when we were kids and that we would be arrested today if we parented that way. But most Gen Xers say it with pride. And that pride is going to ultimately come through over the coming decades as our financial success becomes clearer.
Independence and self-reliance became an important part of our self-identification and psychological makeup. These are all the hallmarks of resiliency, and the kind of grit it takes to not just survive, but also to succeed.
Xers are doin' it for themselves
For those who still think of us as slackers, this year's National Endowment for Financial Education (NEFE) poll on how people are spending their tax refunds speaks volumes:
Older Gen Xers (44-54) are equally focused on paying down debt and putting money into emergency savings (17%).
For younger Gen Xers and Xennials (35-43) paying down debt is an even bigger priority (39%), as is saving up for a rainy day (26%).
It turns out that the latchkey kid mentality isn't about the glass being half empty. It's actually about having the inner strength and work ethic necessary to keep refilling your cup, despite the adversity.
No one is saying it's easy. But we're saying we got this. Because nobody knows better than us that when it comes to fiscal independence (and most things, actually), we've got to do it for ourselves.
How Gen X's 'Latch Key Kid' Mentality Propels Their Financial Success (Forbes)
Social Distortion – I Was Wrong
White Light, White Heat, White Trash, 1996
The Southern California punk band Social Distortion rose to mainstream fame with their 1990 self-titled third album, which gave us the hit singles Ball and Chain, Story of My Life, and a cover of Johnny Cash's Ring of Fire. At that point, they sounded like an outlaw country band. Six years later, they released this punk rock paean to self awareness. (YouTube)