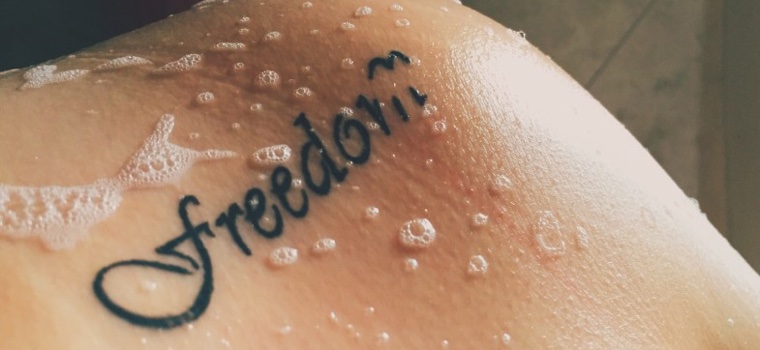 From the January 23, 2019 issue of Further
At a recent personal development workshop, I sat next to a mild-mannered 40-something guy. As the session heated up, he removed his hoodie to reveal an intricate sleeve of freshly-inked symbolism.
Naturally, I just had to inquire about the meaning behind his tats. "Nothing special," he replied. "I'm just anointing my body for death."
Hey, you do you.
Research says that getting ink in your 40s and 50s is a classic sign of the modern midlife crisis, along with moisturizing, running marathons, and taking a daily probiotic. While "crisis" is debatable, this dude at the workshop seemed to be putting an especially morbid spin on the tendency to tat at midlife.
I have to admit I could relate. Well, at least to the idea of getting ink.
Show me a man with a tattoo, and I'll show you a man with an interesting past ~ Jack London
Having resisted the siren song of tattoos at various life stages – tramp stamp (20s), barbed wire armband (30s), proverbial Chinese characters (40s) – I finally gave in. The back of my neck now features an inked mandala that celebrates a half-century of me being me.
I purposefully picked a lotus-inspired mandala and placed it on the back side of my throat chakra. This was to remind myself that anything I write or speak going forward should plant seeds of inspiration, radiate kindness, and impart wisdom.
In other words, I was writing a new chapter in the story of my life. Moreover, I was etching it in blood.
My body is my journal and tattoos are my story ~ Johnny Depp
Beyond the story the tat tells, there's the autonomy of the act. Making the choice to get ink means something — it's a bold statement in itself, especially as a so-called grown up.
Truth be told, when I showed my elderly parents my mandala, the experience whipped up an anti-aging elixir more potent than Botox. Mom's disgusted sniff and my dad's notable silence provided a welcome return to youthful rebellion that far exceeded simple reminiscing.
At an age where the scars we bear often aren't borne of choice, opting to get tattooed as a form of self-expression feels life affirming rather than trudging toward death. If it's a "crisis" to proclaim that I'm still here and plan to be for quite a while longer, well … so be it.