What's the point of living a long, healthy life?
Seems like a silly question, but it's not. In order to keep going, you have to have a reason to live — the literal meaning of the word ikigai in Japanese.
I wasn't planning to write about this today, but I came across this heartbreaking Twitter thread about a man's father who sold his business, retired, and quickly spiraled into depression. Due to a loss of identity and purpose, he attempted suicide, and then on the next try succeeded.
A dramatic example to be sure. But what's truly shocking is how common this is. People over the age of 65 make up a disproportionate number of all suicides, with men in this age group at the highest risk of all demographics to take their own lives.
That Twitter thread led me to financial planner Tom Hixon, who just six months after giving his mother the green light to retire based on her finances also lost her to suicide. He went on to write the book Retirement Stepping Stones: Find Meaning, Live with Purpose, and Leave a Legacy, which advocates for retirement coaching in addition to financial planning for the post-work stage.
And it's not just taking your own life. Lack of purpose can simply negate the drive to keep going:
People who didn't have a strong life purpose — which was defined as "a self-organizing life aim that stimulates goals" — were more likely to die than those who did, and specifically more likely to die of cardiovascular diseases.
Retirement — the shiny goal many people strive for over decades — too often ends up being a disappointment. And this leads to depression:
A study published in the Journal of Population Ageing found that those who were retired were about twice as likely to report feeling symptoms of depression than those who were still working. And, research from the London-based Institute of Economic Affairs found that the likelihood that someone will suffer from clinical depression actually goes up by about 40% after retiring.
When I talk about the concept of retirement at 65 being a historical aberration that doesn't make sense in the face of longer lifespans and healthspans, I'm always putting a positive spin on it. As a purpose-driven business person, I'm not sure how long I'd make it if I didn't have something to work on — it's what I do.
I'm not clueless enough, though, to ignore that many people may be depressed by the idea of continuing on with work. It's often the case that people are so burnt out by their current career that it drives a desire to quit working all together. But in many cases it wasn't work that was the problem, it was that particular job — which is what fuels the unretirement movement.
Modern retirement is a concept that's been around for less than 100 years, but it's influenced our expectations about how life is supposed to be. That doesn't mean it's the way things are actually supposed to be, and we can alter our expectations based on the reality that retirement isn't some great reward after all.
Journalist Dan Buettner points out that some of the longest-living people in the world think very differently than we do, and it's likely a key component of their longevity:
"In America, we divide our adult life into two categories: Our work life and our retirement life," he says. "In Okinawa, there isn't even a word for retirement. Instead there's simply 'ikigai,' which essentially means 'the reason for which you wake up in the morning.'"
Your reason to keep going doesn't have to be paid work, but we can't ignore the fact that for many, it is. Regardless, make sure you're intentionally choosing what you want for yourself instead of complying with a concept of retirement that's increasingly archaic.
Further reading:
Retirement Stepping Stones: Find Meaning, Live with Purpose, and Leave a Legacy (Amazon)
Keep going-
P.S. New to Further? Join us here.
What's the Word?
The key word here is lifestyle, not diet — which is a seemingly small but significant change from the way we think about health. Experts agree that the combination of diet, social life, and physical activity are what make a generous impact on an individual's heart health.
Study Finds the Mediterranean Lifestyle, Not Just Diet, May Improve Heart Health
Good Medicine
Exercise as a treatment for severe depression is at least as effective as standard drugs or psychotherapy and by some measures better, according to the largest study to date of exercise as "medicine" for depression.
The Best Treatment for Depression? It Could Be Exercise
The Longevity Boom
The quest for longevity has gone mainstream as more people seek ways to reverse the aging process. And while this may be the most innate human motivator possible, it's more important than ever to ask yourself, "Why?" What do you want to do with your (extended) life?
Here Are the Biggest Anti-Aging Trends Sweeping the Nation
Is It Truly a Crisis?
Then there's the other part of the retirement issue beyond longer lifespans and a lack of purpose — most people can't afford it anyway. But again, instead of a "crisis" what if it's a blessing in disguise?
Expert Says 'Silent Crisis' with Retirement Savings Looms Worldwide
How to Be Your Self
By Trudi Roth
When I turned 50, I started meditating daily, which helped me ditch anxious ruminating to find bliss — that sweet spot where nothing has to change for everything to be OK.
My delight in meditation has led to two trips to India, both of which coincided with progressions in empty nesting and caring for aging parents. Last time, I had a profound experience that led me to live more consciously. This time, I received this divine inspiration after a deep, trippy meditation:
Don't try. Just be.
If you're a Star Wars fan, you might think you've heard that chestnut before. But give it a closer look — while Yoda says it's not about trying but doing, the message I got is about stopping doing things to please others and, instead, being content with who you are.
At middle age, we've earned the right to employ that Jedi mind trick — and we're not the first. The ancients called this phase of life Vānaprastha.
The Third Stage
The sacred books of Hindu wisdom, the Upanishads, discuss the four stages of life: Brahmacharya (student), Gārhasthya (householder), Vānaprastha ("forest walker/dweller"), and Sannyāsa (renunciate).
The first two stages are about acquiring things: knowledge, careers, partners, children, homes. The last stage is about letting everything go before bouncing off this mortal coil.
The third stage is where we are now, and it commences when our hair grays and skin wrinkles, according to the Upanishads. (Clearly, this was pre-Botox, dye, and other emblems of today's "disappearing life stage.") Aesthetics aside, it meant lessening responsibilities, so you and your partner could hand off family responsibilities to the young'uns and prepare for enlightenment before death.
I prefer a modern spin: it's time to stop letting the world define us and instead allow our hard-earned crystallized intelligence to lead us to fulfilling, purposeful ventures for many years to come. (This chestnut is a Brian Clark special, aka the Mentor Method.)
Don't Die Trying
When I returned to checking email, I found a synchronous missive entitled "Don't Try," from Mark Manson, the author of The Subtle Art of Not Giving a F*ck — coincidently, a terrific slogan for Vānaprastha. Manson decided to stop grinding on how to make his next book successful and instead focused on thinking about what he actually wanted to write. Naturally, he's now off to the races.
Try his prompt as a Vānaprastha exercise:
In one area of your life where you're anxious to achieve success or love or happiness, try simply giving it up for a while.
What've you got to lose? At this point, every failure or loss is a spiritual gain — as is every win. The best thing about the third act is all you have to do to succeed is be your Self.
The Upanishads, Volume I, Translated by Swami Nikhilananda
Don't Try (Mark Manson)
further: flashback
De La Soul – The Magic Number
Three Feet High and Rising, 1989
School House Rock debuted 50 years ago with Three is a Magic Number, providing an essential aspect of the Gen X educational process. My kids, though, were taught at a young age about the history of hip hop when I introduced them to De La Soul's groundbreaking album Three Feet High and Rising. This later came in handy when they got to flex to their friends after The Magic Number played over the end credits of Spider-Man: No Way Home. (YouTube)
further: sharing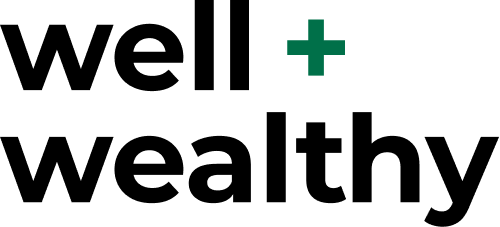 Further subscribers who share the newsletter with friends can gain three months of access to our exclusive membership community Well + Wealthy with only five referrals. Get your own free weekly dose of health, wealth, travel, and happiness advice here, and find out all the details on our referral program.
Thank you for sharing Further!