We've been wondering out loud here at Further about the coming impact of artificial intelligence for years. Specifically, if it was going to put a lot of people our age out of work at exactly the wrong time.
The original prognosis was that up to half of all jobs would be lost to A.I. And we're talking white collar knowledge workers here (robotics threatens entirely different sectors of the job market).
But then the narrative shifted around 2019. All of a sudden, we would be augmented by A.I. instead of being out of work.
In the near-term, however, that augmentation may be only slightly less painful. Working with artificial intelligence also means being monitored by algorithms in the name of productivity — which is already resulting in a dystopian workplace environment for many.
But if you dare complain, it's just another excuse for disguised ageism. They'll say "you can't work with technology," but what they really mean is you cost way more than a younger employee.
So that's fun.
But let me propose to you that the whole "augmented employee" argument is a con job to calm us down. Tech entrepreneurs, venture capitalists, politicians, and others are working to make a lot of money off A.I. in the coming years, and freaking everyone out with talk of massive job losses doesn't help.
In other words, you have to consider why this technology is being developed in the first place:
AI's core promise — the reason we are pursuing it to begin with — is that it will be able to do things more accurately, more cheaply, and more quickly than humans can do them today. Once AI can deliver on this promise, there will be no practical or economic justification for humans to continue to be involved in many fields.
With that in mind, the only consolation was that massive workforce disruption may not happen until the 2030s. There's not much comfort given that most Gen Xers won't even be at traditional retirement age yet.
And even that timeline may be wrong, given how quickly things are moving right now:
But the best A.I. systems are now so capable — and improving at such fast rates — that the conversation in Silicon Valley is starting to shift. Fewer experts are confidently predicting that we have years or even decades to prepare for a wave of world-changing A.I.; many now believe that major changes are right around the corner, for better or worse.
It's no secret that many public corporations and private firms alike are motivated by short-term profit over the economic security of their employees. But it's a different story when you're the owner of the company.
Businesses ranging from solo freelancers to powerful small digital businesses are already using A.I. to "augment" themselves on their own terms to produce and earn more while working less. This leaves us to focus on the uniquely human tasks that help deliver even more value to our customers and clients.
With or without the imminent concerns over A.I., large numbers of people are going out on their own at midlife. In the immortal words of Kurt Cobain:
You can't fire me because I quit.
Further reading:
We Need to Talk About How Good A.I. Is Getting
Keep going-
P.S. If you're interested in learning more about the mentor model for midlife entrepreneurs, join us in Well + Wealthy before the membership fee goes up. We'll be doing a deep dive on these issues in the coming months, plus other high-impact topic related to health, wealth, and personal growth.
Exercise Override
"Our study showed that, even if you aren't likely to live long based on your genes, you can still extend your lifespan by engaging in positive lifestyle behaviors such as regular exercise and sitting less," said senior author Aladdin H. Shadyab, Ph.D. of the Herbert Wertheim School of Public Health and Human Longevity Science.
Physical Activity May Play Greater Role Than Genes in Longevity (Technology Networks)
Oxidative Stress Test
Free radicals help fight off toxins in your body. However, when there is a higher level of free radicals than antioxidants, the free radicals start damaging DNA, proteins and fatty tissues. In the short term, you experience signs and symptoms such as headaches, fatigue and brain fog that impact your cognitive performance at work.
Boost Your Cognitive Performance By Minimizing Oxidative Stress (Entrepreneur)
OG Slackers
Everything they're saying about Gen Z not putting extra effort into terrible jobs is exactly what they said about us 30 years ago. Well, we're not slackers anymore, but we're no more likely to put up with BS job conditions.
Generation X: The Original Quiet Quitters (Fast Company)
Ease the Pain
Grief is not only evident through feelings of sadness or helplessness — you can also feel it in your body. This article deals with the physical side of grief, while down below Trudi explores how grief can be transformative.
How to Ease the Physical Symptoms of Grief (Lifehacker)
The Transformative Power of Grief
By Trudi Roth
Earlier this month was the first anniversary of my mom's death. Ironically, that same day Brian passed along a new book by psychologist Sherry Walling, Touching Two Worlds: A Guide for Finding Hope in the Landscape of Loss.
I thought I knew everything about mourning. My mom and our family's beloved dog each suffered long bouts of cancer, dying just three months apart. As a meditation teacher, I focused on savoring the present moment with my loved ones, which helped mitigate anticipatory grief. And after each death, I was careful to allow myself space to cycle through the stages of grief.
By the end of last summer, I thought I had made peace with the losses. But, as Dr. Walling describes in her raw, personal book about losing her father and brother in rapid succession, that first anniversary can hit you like a semi-truck. I suddenly realized I'd been adrift on an undercurrent of sadness for an entire year.
The landscape of loss is much more vast and unpredictable than I realized.
Good Grief
Grief isn't just about death: it's about everyday loss. As the sandwich generation, where we usher our children and parents through major life transitions simultaneously, we know the feeling well. Those who lead full lives, as Dr. Walling points out, are inevitably vulnerable to heartbreak.
The more touch-points you have with the world around you, the higher the likelihood that you will encounter grief. The more you hope for, the more you stand to lose.
The signs of grief are easy to spot, from sleeping too much or not enough, low energy, and difficulties focusing to volatile moods, anxiety, depression, and numbing behaviors (excessive eating, drinking, or shopping). But getting help coping can be challenging. The CDC has suggestions, and I highly recommend Dr. Walling's book to help you make peace with grief.
Mourning Has Broken
Unlike other "self-help" books, Touching Two Worlds is about how loss shaped Dr. Walling personally. As she notes, it's a "sad book." But it's also a beautifully instructive work from a clinical psychologist who has helped scores of people navigate trauma and loss.
Throughout the book, Dr. Walling encourages us to "take a moment…" and shares strategies to support processing and healing, including:
Writing a timeline of your grief
Doing cognitive exercises to recover from trauma
Learning how to care for grieving people (including yourself)
Identifying triggers
Writing a letter to the one you lost
Expanding your perspective to make space for joy and sadness to coexist
While loss is painful, it's also a fact of life. So, you might as well accept grief as the guide that leads you through the landscape of loss to the other side where new beginnings live.
Touching Two Worlds: A Guide for Finding Hope in the Landscape of Loss by Sherry Walling, PhD (Amazon)
further: flashback
Oasis – D'You Know What I Mean?
Be Here Now, 1997
The hype leading up to the release of Be Here Now — the third studio album from Oasis — was in no way justified by the songs we got. But lead single D'You Know What I Mean? keeps getting better with age. Cool video too. (YouTube)
further: sharing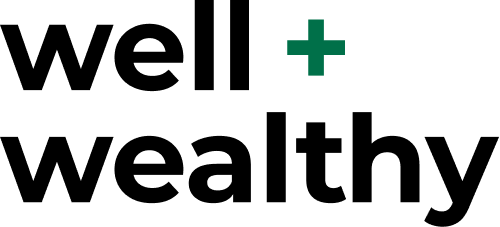 Further subscribers who share Further with friends can gain access to our exclusive membership community Well + Wealthy with only three referrals. Get your own free weekly dose of health, wealth, travel, and happiness advice here, and find out all the details on our referral program.
Thank you for sharing Further!