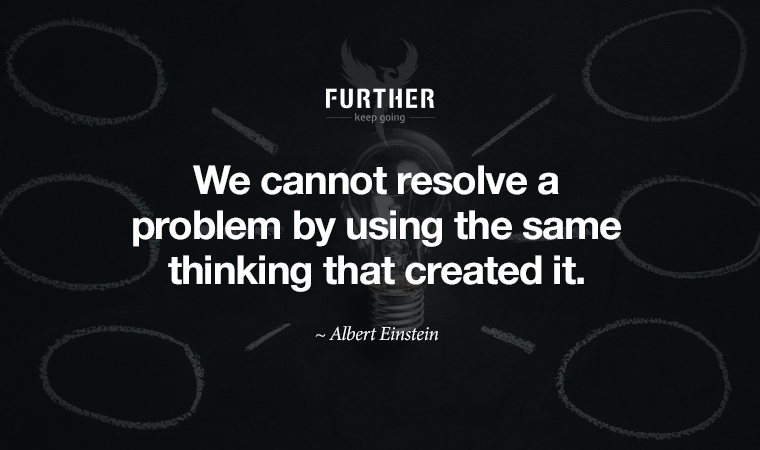 Andy Grove knew his business was about to die. The remarkable thing was what he decided to do about it.
Intel made low cost memory chips, and these chips were quickly becoming commodities. That may surprise you, since Intel is best known for the production of microprocessors, along with that catchy little "sound logo" that lets you know Intel is inside.
At the time, however, the microprocessor business was predominantly controlled by the Japanese. Before Intel could eventually dominate the space, CEO Grove and Intel co-founder Gordan Moore would have to hit the reset button on their entire business.
In his book Only the Paranoid Survive, Grove recalls asking Moore a provocative question: "If we got kicked out and the board brought in a new CEO, what do you think he would do?"
Moore (as in Moore's law) answered without hesitation, "He would get us out of memories."
Grove stared at him and then said, "Why shouldn't you and I walk out the door, come back in, and do it ourselves?"
Seems like a genius move in hindsight, but just think about the courage and humility it takes to kill off a successful business in order to transition to the business you need to be in.
Most company leadership doesn't have the strength to do this (think Blackberry when confronted with the iPhone), and that's why companies become irrelevant and disappear. Perhaps that's why the average age of an S&P 500 company is under 20 years, down from 60 years back in the 1950s.
The irony is that hitting reset on what brought prior success and replacing it with something better has been a winning strategy in contexts throughout history:
At one point, the Roman Empire ruled the Western world. According to French political philosopher Baron de Montesquieu, it was because "they always gave up their own practices as soon as they found better ones." As you may have guessed, when the Romans stopped doing this, the Roman Empire fell and the Dark Ages ensued.
Back in the mid-2000s, things were not good at Disney theme parks. Visitor feedback on "intent to return" was in free fall due to excessive crowds, long lines, and endless hops back and forth across the park. Disney executives re-imagined the entire experience and successfully bet $1 billion on a wristband called MyMagic+ that provided turnkey access to tickets, rides, hotel rooms, dining, and souvenirs.
In 2010, Serena Williams suffered a foot injury that caused her to miss the rest of the season and half of 2011. When her success faltered upon her return, she decided to disrupt her entire approach by hiring an unproven coach and discarding her former training regime. During the 2014-2015 season Serena held all four Grand Slam singles titles simultaneously, becoming the only person ever to achieve that twice — 12 years after she did it the first time.
In short, prior success is no guarantee of similar results in the future. More often than not, without a "reset" that unlearns the old way and adopts a new and better way, the chance of continued success greatly diminishes.
The Paradox of Success
In his book Unlearn: Let Go of Past Success to Achieve Extraordinary Results, author Barry O'Reilly explains what he call the paradox of success:
While certain methods of thinking and doing may have brought you success in the past, it's almost certain they won't reliably bring you success in the future. The key is to recognize the signals and break through before it's too late.
O'Reilly's prescription for the paradox is to unlearn, relearn, and only then will a new breakthrough arrive. He traces the idea of organizational "unlearning" to an article written by Bo Hedberg in 1981:
Knowledge grows, and simultaneously it becomes obsolete as reality changes. Understanding involves both learning new knowledge and discarding obsolete and misleading knowledge.
And yet, O'Reilly is quick to point out that organizations don't learn new things and discard old ways — people do. It's the people at Apple, Amazon, and Google who make winning decisions, just as it's the people at Sears, Lehman Brothers, and General Electric who made bad decisions that led to diminished importance (or worse).
It takes strong leadership to avoid holding on to legacy behaviors or outdated thinking simply because it worked in the past. And it takes buy-in from the rest of the people in the organization to execute.
But simply learning new things isn't enough. Without concurrently discarding obsolete ideas and practices, true progress isn't made. And as you might have guessed, it's not safe to count on any particular leader to make the right call — it's up to you.
One area where this is clear at an individual level is lifelong learning. In the past, what you learned in school and on the job would last you a lifetime. Now, accelerating change makes knowledge from last year outdated in some cases.
In response, hundreds of billions of dollars are spent worldwide each year on employee training and education. And yet, true change rarely happens, because people quickly revert to their old ways of doing things.
What's needed is not an additional layer of knowledge. What's needed is a system that allows for a "reset" in both thinking and behavior to truly move forward.
JJust like your cable modem needs a hard reset to start working again and even improve performance, you need a system of letting go of what used to work in order to adapt to the reality of the present and the impending future. In other words, you need to disrupt yourself before external forces do the disrupting to you.
Yes, you need to continue learning for life. But to make that learning stick and translate into positive change, you need to concurrently unlearn the ideas, habits, and processes that worked for you in the past but no longer do.
You Must Act to Adapt
In Unlearn, O'Reilly maintains that you don't trigger a shift in mindset by simply thinking differently; you start by acting differently. When your actions change, you start to see and experience the world differently, which impacts your overall mindset as a result.
This essentially means stepping outside of your normal routine for a period of time and engaging in deliberate practice, which can be a challenge. But I'm guessing you've got more than one foot outside of "normal" right now due to the pandemic.
So take the opportunity to unlearn what you know has become less effective already, and may end up obsolete in the new normal. Here's the three-step system for breaking outdated behavior and thinking:
Unlearn the behaviors and mindsets that keep you from moving forward.
Relearn new skills and strategies necessary for true transformation through safe experimentation.
Breakthrough old habits by opening up to new ideas and perspectives.
Simple enough, but what specific actions should you focus on to engage the system? Here are five ways to jump-start the process.
Get Curious: Curiosity may seem like a state of mind, but it's really an active pursuit of deeper knowledge. Always ask the next question, especially when a viewpoint is contrary to your own. Don't try to be right; instead find the right answers when it comes to what works now.
Start Small: You want to think big, but test small. Failure is nothing to be afraid of in this context, and yet the fear of failure often keeps us paralyzed. So instead, perform small experiments that are low risk if and when you make a mistake.
Own the Problem: Unlearning begins with the accountability for a new approach, and transformation begins with you. You can't count on leadership to make the right calls, but the people who answer to you need to see you as a role model for effective change.
Get Uncomfortable: Even when starting small, you're experimenting with new behaviors that will likely be difficult. This may feel uncomfortable, but by putting yourself in situations where you are outside of your comfort zone, new opportunities and personal growth will follow.
Keep Going: The process of resetting your thinking and behavior is a continuous cycle of personal development. When most people think you should stop doing what you're doing and just revert back to what's comfortable, that's when the breakthroughs begin to happen.
Reset Yourself for Future Success
Futurist Alvin Toffler, who way back in 1970 warned of the shock of accelerating change in the future, once said, "The illiterate of the twenty-first century will not be those who cannot read and write, but those who cannot learn, unlearn, and relearn."
With the rate of change accelerating each year, and new technologies such as artificial intelligence and augmented reality certain to change your work environment, a process that periodically resets your thinking and behavior will be a necessity.
In fact, it will need to become part of who you are.
Fortunately, O'Reilly asserts that the unlearning process is an ongoing, compounding, and virtuous system. That means the more you use it, the easier it gets and the better your results. But it's up to you to embrace the process in the first place.
Unlearn: Let Go of Past Success to Achieve Extraordinary Results | Amazon