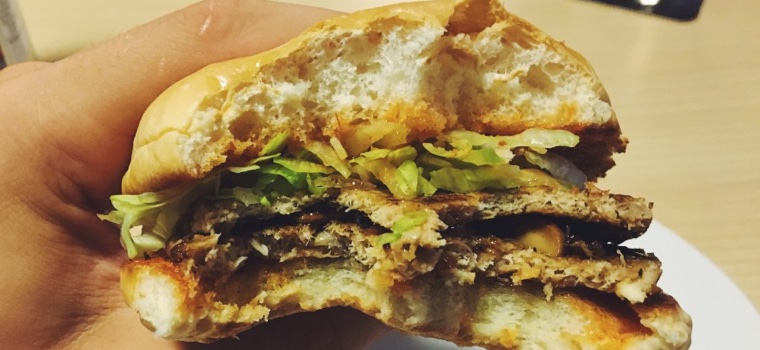 From the August 8, 2019 issue of Further
My friend, who's a vegetarian for health reasons, is having a fast-food renaissance. He's already a devoted fan of Del Taco's Beyond Meat tacos, and is eagerly anticipating Burger King's new Impossible Whopper.
The proliferation of plant-based meat into on-the-go meals points to the fact that what was seen as a food fad is now a bona fide nutritional shift. This is not your mama's veggie burger, which was really an option for vegetarians, not omnivores. Alt-meat is made to appeal to beef lovers by looking, tasting, and "bleeding" like its cow-based counterpart.
And yet, vegan-friendly plant-based meat provides as much protein as meat, and also significant fiber. When you factor in the much lower carbon footprint of plant-based meat, it's better for the planet, too.
Still, it's made in a lab, so can it be truly be healthy? Let's get to the meat of the matter.
Where's the beef?
Just because a product is "plant-based," doesn't mean that it provides the same health benefits as eating raw vegetables. Alt-meat is comprised of either pea protein (Beyond Meat), soy or potato protein (Impossible Burger), plus coconut, sunflower, and/or canola oil, vegetable-based "blood" (beets or yeast-grown heme) and other loads of other additives.
Alt-meat is, in short, a highly processed food, which by definition isn't as healthy as whole foods. Plus it's made to emulate beef, so it's got a comparable calorie count and fat content.
Plant-based meat is absolutely safe — but it's not a health food. While there's a lot of uncertainty in nutrition science, and meatless meat may avoid the cancer risks of red meat, for the most part, it is probably about as good for you as the meat it's imitating.
That said, these meat substitutes have some advantages over meat. At least it's missing the growth hormones and antibiotics fed to cows.
A whole different animal
Still, the synonymous lock on protein that animal meat has traditionally enjoyed is lessening. Beyond Meat's impressive recent IPO speaks volumes to the paradigm shift that's underway.
Just as the iPhone wasn't just a new kind of telephone, alt-meat isn't just a new kind of burger — it's an evolution in the food chain.
This will be generational. All change is. Most Baby Boomers are going to stick with their beef, right up to the point where their dentures can't take it anymore. But Gen Z will find the stuff as embarrassing as Def Leppard and dad jeans.
In other words, we're at the (cow) tipping point now. As prices fall, it looks like eating animal-flesh in abundance may go the way of the buffalo.