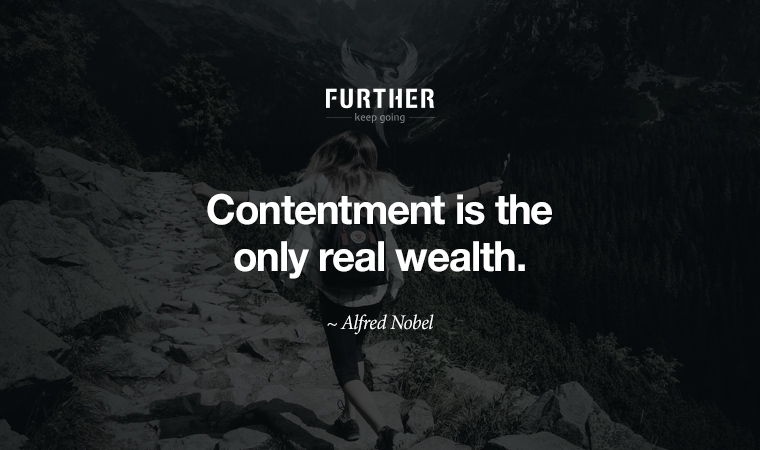 On my recent trip to Bhutan, I did a lot of hiking. And if you know anything at all about Bhutan, it's likely the image of Tiger's Nest, the Buddhist temple built way up into the side of a mountain.
It's billed as a three-hour hike up, although we made it in a little over two. If you ever get the chance, it's an invigorating trek culminating with a spectacular structure.
The last leg of the trip is a set of concrete steps built into the side of the cliff that travel alongside a towering waterfall. It felt really satisfying to get up to the temple, and to see the artistry of the sacred site.
But then, I spotted another temple on a higher peak above Tiger's Nest. So naturally, a subset of the group and I just HAD to hike up there as our ultimate conquest.
So up we went, navigating a steep billy goat trail that wound its way higher up the mountain. And there we were granted a sight rarely seen by tourists — the view of Tiger's Nest from above the temple. That and the surrounding views of the cliffs and the valley were magnificent.
And then, I glanced up to the left. There was yet another temple, on yet another higher peak. It was perhaps the most poignant lesson of the trip, and very much in line with Buddhist philosophy.
There will always be a higher peak. Someone with more money than you. A family with a nicer house.
When will you be grateful for where you're at, and what you have? Right here, right now.
Go further on your own terms — you've got no one to keep up with other than yourself.
Contentment: How to Find This Unmistakable Freedom (Becoming Minimalist)
Let's fix this headline
Sloppy headline writing by the New York Times — what they're trying to say is exercising before you have anything to eat burns more fat. "Cyclists who had pedaled on an empty stomach incinerated about twice as much fat as those who had consumed a shake first."
Eating After You Exercise May Provide Added Fat-Burning Benefits (New York Times)
Think less, sleep more
You guessed it … we've gone from not getting enough sleep, to now obsessing so much about getting enough sleep that we're not getting enough sleep. Sigh.
Stop Obsessing Over Sleep — Your Brain Will Thank You (Wired)
The million-dollar question
The general rule of thumb is you need a million dollars to retire for that money to last until, well … you don't need it anymore. Assuming that's enough money is a big leap; and so is assuming you're on your way there. Still seems smarter to find work you love for an encore career.
Here's How Long $1 Million In Retirement Savings Will Last In Your State (Huffington Post)
Down below, Trudi explores the concept of beginner's mind, and how it can take you to your next level. Plus, this week's book selection can help with that million dollar thing.
Keep going-
P.S. Did someone forward this issue of Further to you? We'd love to have you join us by signing up here.
further:
books
A unique ten-question template that makes it easy for individual investors to manage your own money, understand the basics of investing and diversifying your portfolio, and invest like a pro for greater profits. (Amazon)
When you buy a book through us, we get a small store credit to buy more books. Thank you!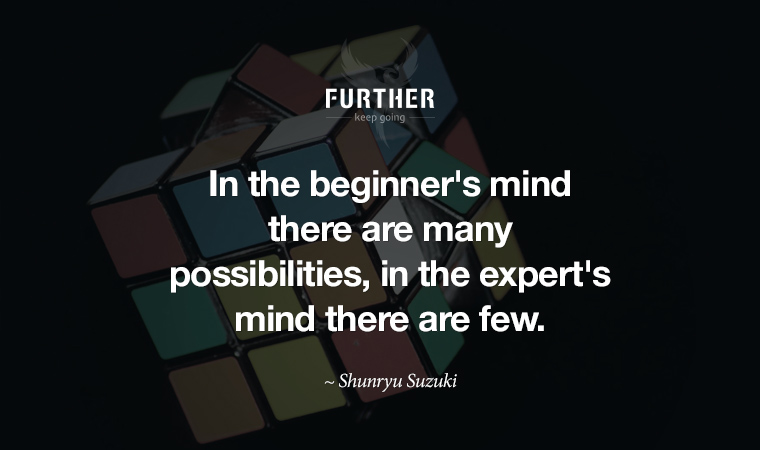 By Trudi Roth
Keeping up in our 24/7/365 world is daunting. Change isn't just the only constant; it's also the in-your-face reality of our digital times.
While we Gen Xers are as tech-savvy as younger generations, we do have one disadvantage in responding to new challenges: we've spent roughly a half-century relying on our intellect to solve problems.
This works fine when there are only a couple of options to get from point A to point B; your brain loves a linear analytical problem. But in today's explosion of novel opportunities, a fixed approach is the fastest way to get left behind.
So even if you're an expert in your field — or maybe especially if you're a pro — it's best to let go of what you think you know when facing unfamiliar territory.
Flex your brain
The good news is your brain has plenty of cognitive capacity to embrace change by tapping into what physicist and author Leonard Mlodinow calls elastic thinking:
The capacity to let go of comfortable ideas and become accustomed to ambiguity and contradiction; the capability to rise above conventional mind-sets and to reframe the questions we ask; the ability to abandon our ingrained assumptions and open ourselves to new paradigms; the propensity to rely on imagination as much as on logic and to generate and integrate a wide variety of ideas; and the willingness to experiment and be tolerant of failure.
It's easy to see the benefits of elastic thinking when you consider the opposite, which is "frozen thinking." Believing there's a set way to solve a novel challenge is a fast-track to irrelevancy.
Instead of forcing a particular way of thinking, sit back and let your younger self take the wheel. As a kid, new concepts were tackled not with intellect, but curiosity and wonder — the essential fuel of creativity and innovation.
Begin again
There are lots of ways to fire up your adaptive energy through elastic thinking, like meditating, daydreaming, or taking a walk. But cultivating a "Beginner's Mind" (Shoshin, a Buddhist concept popularized by Shunryu Suzuki) can go beyond by helping the over-thinking expert in you relax.
Starting over as a beginner is simple:
Lead with questions
Go step-by-step
Question what you know — and what you don't
Stop judging others and yourself
Don't be afraid to suck at something
None of this negates life experience, but it does ask you to drop preconceived notions and become more flexible in applying your know-how. Give your brain the space it needs to bounce around new ideas, and you'll spring forward in your career — and life.
Elastic: Flexible Thinking in a Constantly Changing World (Farnam Street)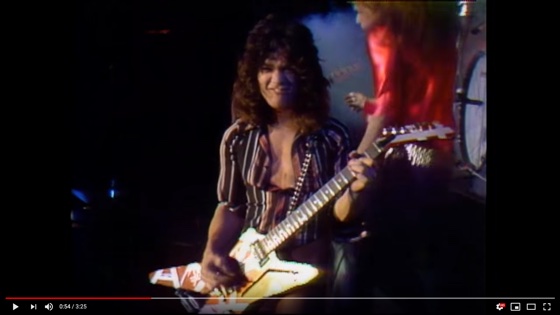 Van Halen – You Really Got Me
Van Halen, 1978
Seventeen-year-old singer/songwriter Billie Eilish caught flack this week for admitting she didn't know who Van Halen is (okay boomers). But just so you don't forget, here they are (not Van Hagar, mind you — only the original lineup headed by Diamond Dave counts) with their cover of You Really Got Me by The Kinks (pretty sure Billie hasn't heard of them either). (YouTube)
further:
sharing
Please forward this issue of Further to a friend. Thank you!