By Mary Kay Seales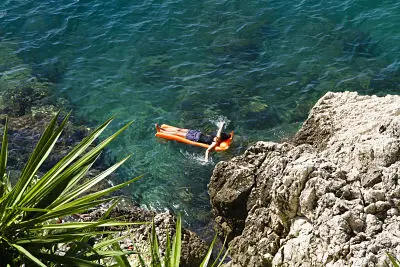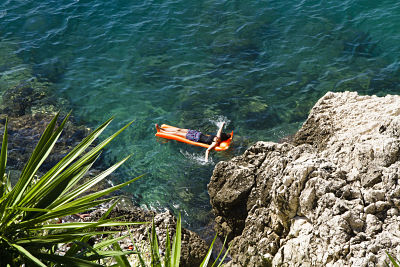 When you think of the French Riviera, certain images come to mind:
A young Bridget Bardot cavorting in her itsy bitsy bikini on the beaches of St. Tropez.
Zelda and F. Scott Fitzgerald holding court at the Hotel Belles Rives in Juan les Pins.
Brad and Angelina walking the Red Carpet at Cannes.
The Hotel Eden Roc on the Cap d'Antibes where everyone from Marilyn Monroe to JFK partied on their French Riviera excursions.
And of course, James Bond looking cool and collected getting out of his Aston Martin at the casino in Monte Carlo.
Luxury, decadence, spies, movie stars, and yachts. To many people this is the French Riviera.
Is that not the truth?
Well, allow me to share a different perspective. There is so much more to the French Riviera than what you see in the pages of People magazine.
For seventeen years now, I — a decidedly not rich, not famous, everyday working stiff — have been hanging out on the French Riviera every summer. Often for months at a time.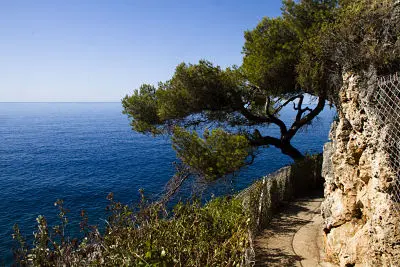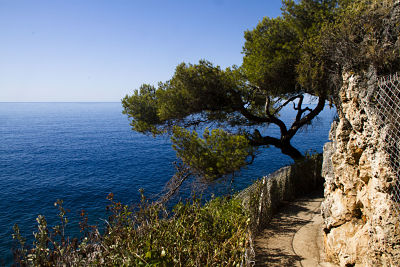 My French Riviera
My French Riviera is not at all about glamour and glitz (although I do love that it has that aspect oozing in the background).
The French Riviera I experience is about hiking along winding coastal trails with a backdrop of the blue, blue Mediterranean Sea. My Riviera is working up a sweat from a 5-mile hike, basking in the radiant sun. And then I arrive at the next little beach where I shed my shoes and shorts and jump into the perfectly cool aqua-blue water of the Côte d'Azur.
Afterwards? A meal at a sidewalk or beachside café, where I enjoy a chilled glass of inexpensive (but always good) white wine to complement the fresh tomatoes with olives, basil and mozzarella, all drizzled in olive oil. Wonderful crusty bread.
A view of the sea. A tired but satisfied body. That's how I spend most of my days on the French Riviera.
Often just on my own — walking, swimming, eating, and drinking. Sun, water, and brilliant color all around. It's like being in a Matisse painting, or living inside a prayer.
This is why Matisse, Picasso, and Cocteau lived here. It's why movie stars hang here. It's quite simply beautiful in every way possible.
The beauty seeps into your pores and feeds your soul. This brand of beauty makes you drunk, addicted even. You return home, but your dreams and desires are now filled with the color, beauty, warmth, and downright pleasure of the French Riviera.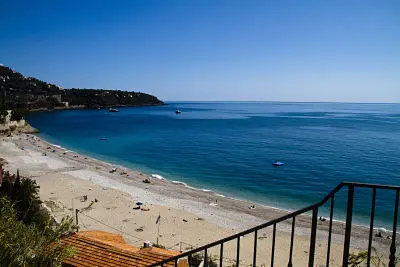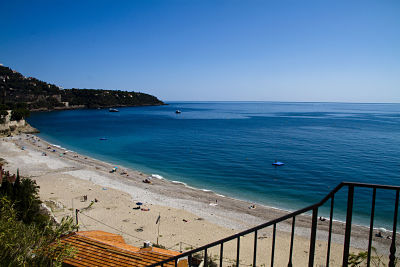 Making It Happen
How can I afford to do this every summer, you ask? Good question, because I am far from wealthy.
So listen up, here are a few of my secrets to spending summers on the French Riviera:
1. Traveling is a priority in my life
I have a lovely home (that I rent), and a great job teaching English at a university (terrible pay but tons of paid time off). I don't buy new furniture, cars, clothes, or the latest big screen television. I have these things, but they're certainly not the most expensive. And I certainly don't replace them year after year.
All the money I don't spend on the latest stuff goes to that one vacation each year. It is absolutely worth it!
I've certainly never regretted giving my daughter trips to France every summer. The experience has shaped her in deep ways that a fancy car or bathroom remodel would not have accomplished.
2. I use my credit card for everything
Food, gas, toilet paper, whatever. The points add up, get turned into airline miles, and voila! A free round trip to Nice or Paris. I just got my free ticket for summer 2017 with 60,000 Delta air miles.
3. I find an affordable place with Airbnb
Ah, Airbnb, what did budget travelers do before it? You can now rent a seriously amazing place for way less than a hotel room.
This coming summer, my chic 2-bedroom apartment in the heart of Nice is costing me less than $100/night. I'm sharing it with someone, which gets me down to less than $50/night.
4. I eat less (and better) when I'm there
I stay away from the expensive restaurants (mostly). I shop for fresh produce, olives, bread and cheeses at the open-air markets.
The wine is cheap and lovely. Maybe one meal a day at a little restaurant, 15 Euros. No more expensive than eating at home.
5. Low cost fun
I hike and swim most days, with occasional visits to museums. Often I catch myself just gazing out on that blue horizon, listening to waves crashing endlessly.
It's not the yacht life, but that's just fine with me. Just being in this region of the world is a profoundly transcendent experience.
You too can make it happen
Now, experiencing life on the French Riviera may not be for everyone, but I hope I've dispelled the myth that it's all about glamour and only for the rich. It can be about filling up your soul on natural beauty, exercise, and relaxation.
Travel is a guaranteed pathway to personal growth. My path routinely runs through the southern coast of France, la Côte d'Azur — the Coast of Blue.