By Mary Kay Seales
There was absolutely no premeditation for going to Bora Bora. Zip. Zero. Nada.
I was playing around on Expedia, as is often the case when I need to stave off the gray descent into Seattle's winter. Where would I like to go?
A three-week Christmas break from the university was coming up. I was getting a bit depressed by the weather already, and it was only November.
Let's plug in somewhere warm. Somewhere I can swim. Somewhere crazy.
Let's say for two weeks.
That's how Bora Bora happened. One of those crazy, just-hit-the-button-before-you- change-your-mind kinda moments.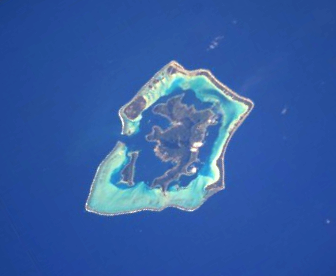 Where is Bora Bora?
Bora Bora, a French Protectorate, lies about 30 minutes by small plane northeast of Tahiti. The route from Seattle is through Los Angeles, to Papeete, to Bora Bora.
It's so tiny that you have to expand the Google map to locate it out there in the vast South Pacific ocean. Looking at aerial photos, you see that it is a central island, quite small, surrounded by a reef that just barely keeps the sea from rolling over it.
Small green islands, called motus, dot the rim. Within the reef and around the main island, the water is the most spectacular blue imaginable.
The more expensive hotels (and they're really quite expensive) are located mostly on these outer motus. My hotel, the Maitai, was one of the few on the main island, which I realized afterward was a fortuitous stroke of luck.
Since I was one of the few guests at my hotel, I was upgraded to a view that looked out over the sea from the elevated hillside. From my balcony, I could watch the sunset, moonrise, storms, and stars.
And here's the even more amazing part. There were virtually no other tourists. Well, a few, but few enough to feel at times as if I were the only one there among the local people, which was very cool.
Almost Bora Bored (In a Great Way)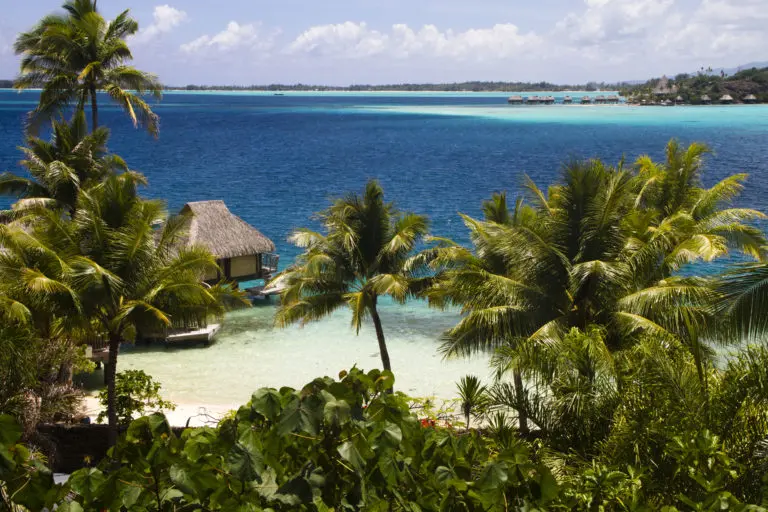 One surprising thing about Bora Bora is there is only one real beach on the island. Of course, you can swim anywhere, but there was only one sandy strip of beach where the water was clear of sea urchins and rocks. Just one place where you could actually swim for a distance and not be afraid of stepping on some strange creature.
There were tiny clown fish in the water and an occasional small stingray, but no sharks to be seen at this beach. Another surprising thing about this inner ring of water around the main island is that it's quite shallow — only four to five feet deep all the way out to the reef.
Fortunately, this solitary beach called Playa Matira was a short walk from my hotel. I spent much of my time walking back and forth for a swim, coming back to eat, then another swim, and then another.
Most times it was just me swimming. It was weirdly wonderful.
Ride, Swim, Eat, Drink, Sleep … Repeat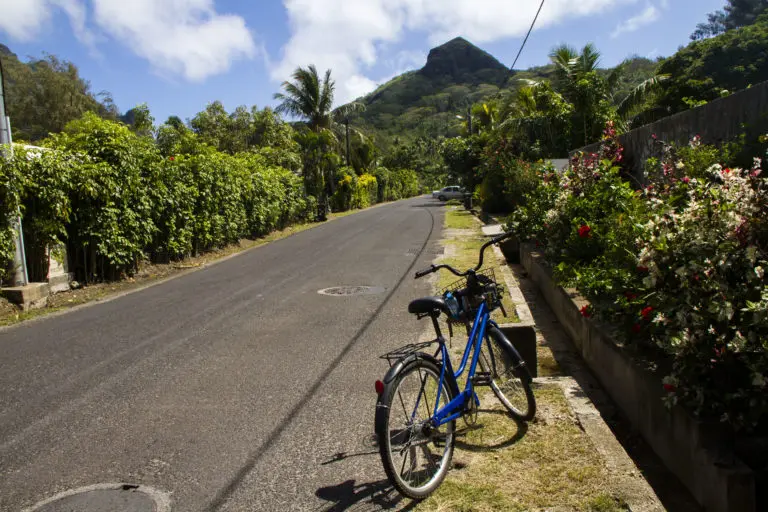 I discovered a funky and cheap bike rental place near the hotel. The owner also had a few cabins for rent, which would be the super budget way to go. He was French and a major flirt. After renting a bike from him for consecutive days, he eventually just let me have one for free.
There is only one road around the island, which stretches 22 miles with a few hills, but otherwise an easy two to three hour ride. Dogs barking as I rode by houses initially scared me, but they turned out to be harmless.
I carried my camera in the front basket, and could barely go a few feet without stopping to take pictures. The color almost makes you cry.
Huge sweeping palm branches, sensual-looking breadfruit with just a touch of purple or red, the sound of the palm trees, and the incredible experience of just being alone with this stunning beauty.
What Did I Learn From This Adventure?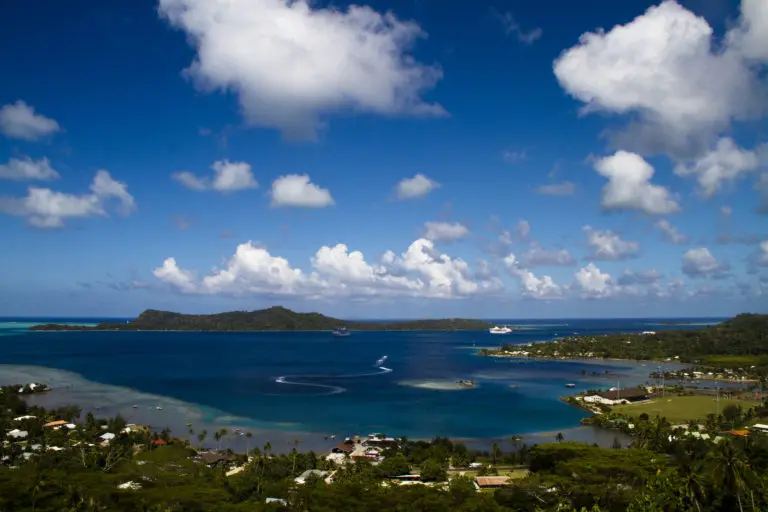 I remembered that I can be alone in the middle of nowhere and be just fine. I knew that when I was a younger traveler, but apparently I needed to be reminded.
More than that, I discovered that I am fed by color, heat, and water. My soul longs for it. It fills my being all the way up.
And finally, I understood once again that spontaneity is a blessing — a gift from my parents, who always told me to just go for it. Life doesn't come with a guarantee, so if there's something you want to do, do it. By all means, just do it.
Bora Bora messed with my head, but in a good way. I have new colors in my dreams, and a new dream to pursue — retuning to Bora Bora for another two weeks this December.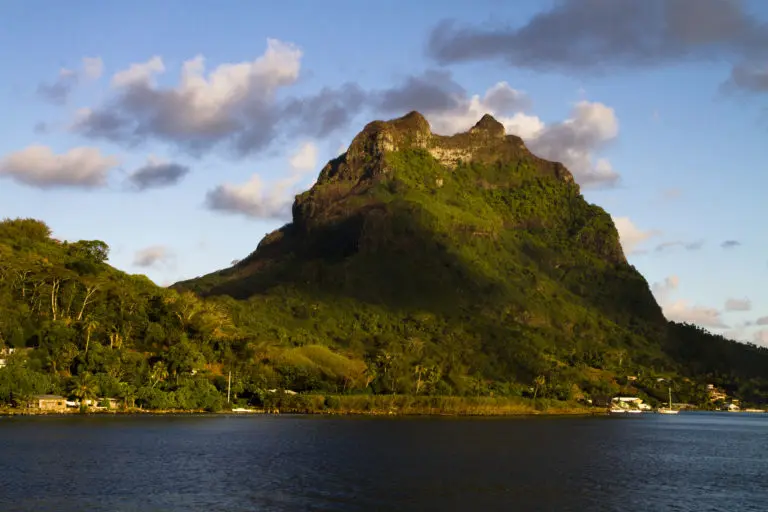 Impulsiveness is destructive, off track, chaos creating. Spontaneity is creative, an intuitive nudge from God, liberating.
Mary Kay Seales is a travel writer, copywriter, and photographer from Seattle, Washington. She is the author of two travel guides and a regular contributor to
France Today
.
Click to visit her home on the web
.