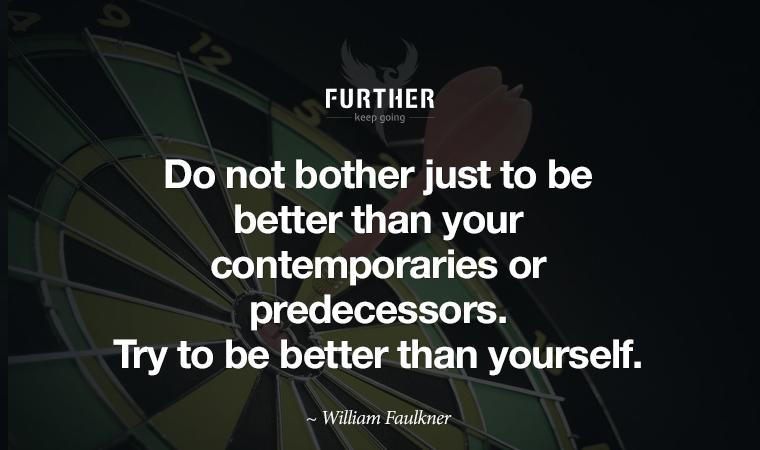 Howdy!
Here's what I've got for you in this week's Further:
The (possible) BIG benefit of intermittent fasting
How to crush work in the age of automation
The siesta solution to better decisions
The no-BS keys to getting in the zone
Plus plenty more …
And while we're on the topic of becoming better than your current self, I thought I'd reshare a Further original from last year. It's not only one of the most popular articles we've published, it also perfectly sums up the theme of this publication:
Get Unstuck: How to be Your Own Life Coach
Keep going-
P.S. If you're wondering if I actually started running last week, I did indeed. I didn't drop dead and it wasn't even terrible, which is encouraging. But I feel like an awkward dork when I run. Give it time, I suppose ….
further:
gear
Get yourself a Further t-shirt or hoodie, and then get back to becoming a better you — in style. Each item is comfortable and well-constructed clothing guaranteed to help you keep going and rise above.

See all the styles here
further:
top ten
Fast Times
Studies involving animals clearly show the benefits of intermittent fasting, which includes longer life spans. And so far, research has revealed promising results for humans as well.
Is Fasting the Fountain of Youth?
Burning Down the House
A few weeks back, I told you about a new study that finds that adhering to an anti-inflammatory diet is associated with lower risks of dying from any cause, cardiovascular causes, and cancer. Here are some specific foods and dishes to get the inflammation down.
25 Inflammation-Fighting Foods & Recipes
Travel Well
The trend of combining wellness with travel seems to be accelerating, at least among the affluent. The luxury fitness company Equinox recently announced its version of fit retreats, which will include domestic getaways as well exotic week-long journeys abroad.
Equinox Launches Luxury Travel Retreats, Starting with Morocco
Algorithmic Allies
Maybe AI won't take your job, but it certainly will change it. All workers will be required to use available technology to sharpen their skills in critical thinking, decision making, and problem solving. That means developing the skills to serve as effective members of human/machine hybrid teams.
These are the Skills You Need to Work with Automation
Gift Thrift
It's not yet Halloween, so naturally it's time to start stressing about the year-end holidays. Here are some effective techniques to reduce the pain and plan for those gift expenses.
How to Plan Your Budget for the Holidays
Sleep On It
Last week we learned that there's no shame in daytime naps, and plenty of benefits. Now, add improved decision-making skills to the list that favors the afternoon siesta.
How Daytime Naps Could Help Us Make Better Decisions
Rejection Zen
Rejection is part of life, and its association with poor health is likely due to the fact that the social injury of rejection activates the same pain pathways in the brain as physical injuries. There is promise on the horizon, however, in the form of mindfulness.
How the Mindful Brain Copes With Rejection
Hustle & Flow
No one can accuse this guide of being a fluffy look at getting in the zone (aka flow). After working through these intensive lessons, you'll learn what flow looks like, how to reach it more often, and how to stay in it for longer periods of time.
Finding Flow State for Peak Performance
Take the Power Back
Throughout our day, we give away our power to be happy, to be content, and to be joyful to other people. In reality, the power over these states of mind — approval, love, anger, joy — resides completely inside of us.
Clueless
Understanding the biology behind consciousness (or self-awareness) is considered by some to be the final frontier of science. And while plenty of smart scientists are working on it, the number of plausible theories of consciousness remains firmly at zero.
Why We Need to Figure Out a Theory of Consciousness
further:
sharing
Please use the social media buttons below to share this issue of Further. Thank you!