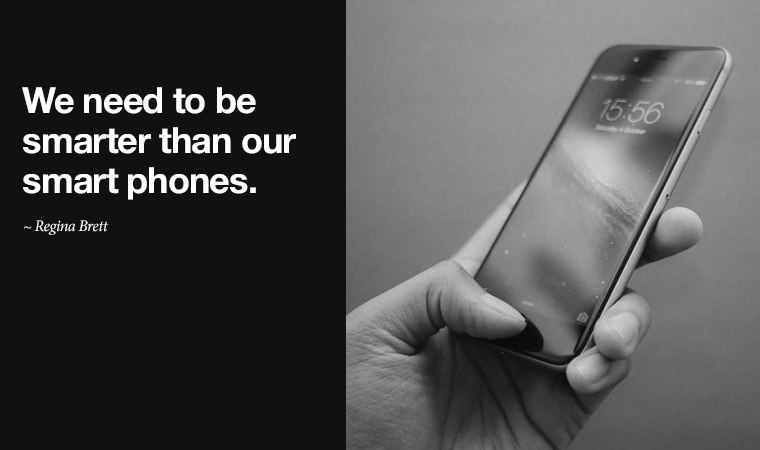 Did you know that slot machines make more money in the United States than baseball, movies, and theme parks combined? According to NYU professor Natasha Dow Shull, those one-armed bandits also lead to addictive gambling behavior at 3-4 times the rate of other games of chance.
That's because they're designed that way — specifically to provide intermittent variable rewards. According to Tristan Harris, the former Design Ethicist & Product Philosopher at Google, it works like this:
You pull a lever and immediately receive either an enticing reward (a match, a prize!) or nothing. Addictiveness is maximized when the rate of reward is most variable.
You've got a different form of slot machine that you carry around constantly — your phone. That's why if you're like most of the billions of smartphone users, you check your device 150 times a day.
Now, is that much monitoring really necessary? Or are you being compelled by intermittent variable rewards? You know, the nagging impulse that you might be missing something vitally important if you don't check right now. Here's Harris again:
When we pull our phone out of our pocket, we're playing a slot machine to see what notifications we got.
When we pull to refresh our email, we're playing a slot machine to see what new email we got.
When we swipe down our finger to scroll the Instagram feed, we're playing a slot machine to see what photo comes next.
When we swipe faces left/right on dating apps like Tinder, we're playing a slot machine to see if we got a match.
When we tap the # of red notifications, we're playing a slot machine to what's underneath.
While email was not designed to be addictive (that's just its nature), most of the time this is no accident … product designers intentionally build features that provide intermittent variable rewards to get you hooked. There's an entire shelf of books with titles like Hooked: How to Design Habit-Forming Products and Seductive Interaction Design that break down how to create addictive technology.
I'll admit, I'm as bad about checking my phone as anyone. But it's really just another exercise in mindfulness — are you making a conscious choice to check your phone for a reason, or are you habitually playing the slot machine?
Reading this issue of Further on your phone? Don't worry … this is a worthwhile task. 🙂
Keep going-
Brian Clark
Further
further:
health
Non-Poisonous
A family of five who ate non-organic food was tested for pesticides — and eight of a chosen 12 pesticides showed up in their systems. Then the family switched to 100% organic food for two weeks. New urine samples were taken, and after a few days almost all of the pesticides were gone.
This Experiment Shows What Happens To Your Body When Everything You Eat Is Organic
Intense Beach Bod
Although there's no reason not to be in great shape all year long, most of us want to be especially fit in the summer when there's so much going on. These high-intensity workouts will help you look, feel, and be your best.
7 HIIT Workouts To Do Before Summer Hits
Toxic Relationship
You may have heard claims that some common foods or ingredients are "toxic." Fortunately, most of these claims are not supported by science. There are, however, a few that may be harmful, particularly when consumed in large amounts.
7 "Toxins" in Food That Are Actually Concerning
further:
wealth
The Illusion of Overnight Success
There's a reason a 10-years-to-overnight-success pattern shows up over and over. And it's not just about working hard over a long period of time.
Why Successful People Take 10 Years to 'Succeed Overnight'
Reanimation
Lack of motivation can result from a number of causes including burnout, an overloaded desk, not enough sleep, boredom, repetitive actions, no clear goal, and even rainy days. Try these tips to re-energize your day.
7 Ways to Re-Motivate Yourself at Work
The 4%
The 4% rule is a popular rule of thumb according to which retirees can withdraw 4% of their capital in their first year of retirement and adjust that amount for inflation annually. But is the 4% rule still good advice in the post-financial crisis era?
Is the 4% Rule of Retirement Still Good Advice?
further:
wisdom
No Really … Keep Going
The Further philosophy is summed up with "Happiness is a way of travel, not a destination." Except it's not philosophy, it's reality. Neuroscience shows that the act of seeking itself, rather than the goals we realize, is key to satisfaction.
Neuroscience Confirms that to be Truly Happy, You Will Always Need Something More
Elementary Mindfulness
As we discussed a couple of weeks ago, "grit" became all the rage in elementary education a few years back, but was applied incorrectly. The latest strategy: Importing mindfulness practices such as breathing or stretching exercises that have become popular at many companies.
Mindfulness Migrates From The Corporate Office To The Classroom
No Excuses
Finally putting an excuse to rest can be indescribably hard; these self-limiting ideas can be shapeshifters, holding many forms. That's because when you really believe something, it can be incredibly painful to drop the excuse.
Stop Lying: How Painful Realizations Can Unlock a Healthier Life
further:
sharing
Please forward this issue of Further to a friend who could benefit from it. Or use these easy social options: