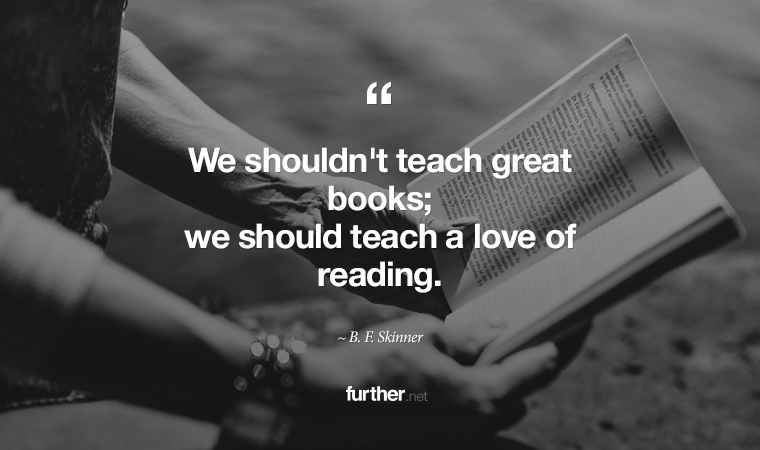 You hear it all the time — if you want to succeed, you need to read. And the list of business titans, world leaders, and intellectual giants that credit a love of reading is endless.
There's science behind the assertion. Reading in general increases your vocabulary and language skills, while fiction reading in particular can improve your emotional intelligence and empathy.
Reading changes the brain, as well. The advantage of literate people over those who cannot read is profound, including higher intelligence, increased longevity, and better memory. The practice also thickens the corpus callosum and reduces the chances of dementia.
There are a few benefits of reading that are uniquely tied to the mechanics of the act itself. One is the requirement for greater focus than other mediums, and another is enhancing the ability to write well, whether those written words are ultimately read or heard.
Beyond that, isn't it the knowledge and perspective that comes from exposing yourself to information that matters? For many, reading is the most efficient way to consume large amounts of information, but isn't it still the information itself that allows for success?
I, for one, am a reader. While I can binge-watch Game of Thrones for entertainment, when it comes to learning, I have to read. I can't listen to podcasts or watch instructional videos. Live presentations make me squirm in my seat (if you can get me there in the first place).
That said, I know enough to know that many people are not like me. Some people are auditory learners, while others need visuals to effectively grasp information.
The popularity of podcasts, audio books, and the motivational cassette tapes of old prove the desire for auditory information. And the fact that some people speed-listen to podcasts and audio books shows that there is a desire for greater efficiency in auditory learning without resorting to reading.
So, while I think you should read more, you do you. And if you're the podcast type, here are some shows to check out:
Five Podcasts that will Benefit Your Health and Wellbeing
Which leads to the question, would you like to see more audio and video content included in Further? I've definitely been biased toward text thus far, and I'm open to changing if it's important to you.
Hit reply to this email and let me know what you think.
Keep going-
Brian Clark
Further
further:
resources
Oh Health No
A few weeks back, I shared an article that defended the Netflix documentary What the Health, and pointed out some of the film's more shocking assertions. I still haven't seen it, but it doesn't seem to be standing up well to impartial analysis.
Debunking What the Health, the Buzzy New Documentary that Wants You to be Vegan
Amazon Fitness
In order to get battle-ready bods for the big screen, the female athlete-actors who play many of the fierce warriors in the smash film Wonder Woman spent weeks in Europe prepping for their roles. Don't be put off guys, you might be able to keep up. 🙂
High Tension
Talk to most experts, and they'll tell you exercises are effective — whether free weights, machines, or bodyweight movements. The problem? Your lack of tension. Learn how to create it, and all your workouts will change for the better.
The Tension Weightlifting Technique: How to Make Every Exercise More Effective
Viajar Bien
Oaxaca has something for everyone. It's home to endless culinary delights, from vibrant street food stalls to fancier restaurants. The city has a thriving art and craft scene which you can explore at numerous galleries, workshops, and the Museo Textil de Oaxaca.
Just Back From: Oaxaca, Mexico
Burning Sensation
These photos show what life is really like at the annual desert gathering known as Burning Man, a utopia of of hedonistic human connection and mind-bending art installations.
These Photos Will Transport You to the Desert Utopia of Burning Man
Choose to Decide
Put simply, there are two primary systems determining and influencing every decision and action (or inaction) in your life. In every situation, one of these systems is over-ruling the other. Either you are acting, or you're inhibiting action.
How To Make Bold Decisions When Others Want You To Play Safe
Honestly Wrong
Sounding confident, transparent, and truthful doesn't require any prefaces. And yet, many of us fall back on common expressions that might sound totally fine in social situations but can do some quiet damage in the workplace.
This Three-Word Phrase Is Subtly Undermining Your Authority
Worst Idea Ever
Explore the counter-intuitive approach of "wrong thinking," also called reverse thinking. Wrong thinking is when you intentionally think of the worst idea possible and work back to find new ways of solving old problems.
To Come Up with a Good Idea, Start by Imagining the Worst Idea Possible
Smart Phone, Dumb Brain
Smartphone app programmers know how to make your brain addicted to their creations. Further, the distractions you experience on a day-to-day basis do not arise only from those alerts and notifications — they come from inside your brain, too.
How to Win the Smartphone-Brain Battle
Blissfully Aware
Not knowing ourselves can lead us to make bad career decisions, to be overconfident, and to miss learning opportunities. Self awareness, by contrast, shows us our true motives, how we can improve, gives us the chance to address or own up to our weaknesses, and ultimately makes us better decision makers.
further:
sharing
Please use the social media buttons below to share this issue of Further. Thank you!